Town of Huntington Supervisor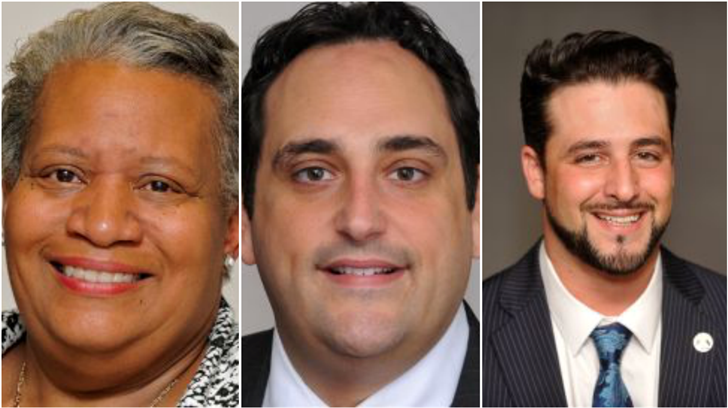 Edwards, 56, of Dix Hills, is running on the Democratic, Green, Independence, Working Families and Women's Equality party lines. Elected to the town board in 2013, she is seeking a first term as supervisor. Edwards is a retired Verizon executive. She is the Long Island region president for the NAACP, a former Elwood school board member and former chairwoman of the town's planning board. A Huntington native, she graduated from John H. Glenn High School. She is married and has three children.

Edwards said that as a daughter of a former police officer, crime prevention and safe neighborhoods are a priority. There needs to be more youth-oriented programs, she said, and the opioid addiction crisis needs to be addressed. She said the affordability of housing for veterans, millennials, young families and seniors also is a priority. "I want to make our communities and downtowns safer by tackling the gang issue and the opioid-heroin epidemic; maintain our strong fiscal record while holding the line on taxes; expand programs for youth, women and seniors; work on addressing the deficit of affordable housing in our town; and legislate to preserve our environment with particular emphasis on water-quality initiatives," Edwards said. "I'm the only candidate that has proposed a public safety plan to address the concerns of our residents while promoting cooperation with the Suffolk Police Department and other law enforcement agencies, as well as [improved] cooperation with our school districts to expand opportunities for youth and local businesses to ensure economic growth."

Lupinacci, 38, of Melville, is running on the Republican, Conservative and Reform party lines. He's a real estate attorney and part-time professor at Farmingdale State College and St. Joseph's College and teaches business law and political science. He is serving his third term representing the western half of Huntington Town in the state Assembly, where he sits on the higher education, election law, transportation, judiciary and tourism committees. He served three terms on the South Huntington school board. This is his first run for a town office. He is not married.

Lupinacci said there are many areas to focus on if he is elected: public safety, especially eradicating the drug epidemic and gangs; more transparency and accessible government, including budget workshops that are open to the public before the budget is voted on; and ethics reform. He said he'd like to make it easier for people to attend town board meetings by increasing the number of them, having more night meetings and possibly taking them on the road. He said he thinks Town Hall should be easier to use with evening and weekend hours. He'd like to see a prohibition on incumbents using their office to hold press events related to their elected positions a certain number of days before an election, as well as campaign finance reform. He wants to control local taxes, and fees, possibly by combining departments. Other quality-of-life issues of concern to him are drinkable water and swimmable waters, and building a parking garage in downtown Huntington. "Based on my past experience both as a school member and in my state position, I'm ready to lead this town," he said. "We have an excellent town, but I think working together we can bring it to the next level."

Raspantini, 36, of Huntington, is running on the End Corruption in Huntington Party line. The lifelong Huntington resident holds a bachelor's degree in communications from Hofstra University and is the owner of a real estate development company and multimedia video newsreel production company. He is a past board member of the Huntington Township Chamber of Commerce. He is not married.

Raspantini said voters should support his candidacy because he is "completely independent." "I have no attachments to any big business developers, there's no one in my back pocket, I have no family members that work at Town Hall, I'm completely here, 100 percent for the people and have no intentions of leading government that is not honest, so I will be 100 percent honest and transparent with the people," he said.