Eagles face an offseason of new coaches, free-agent moves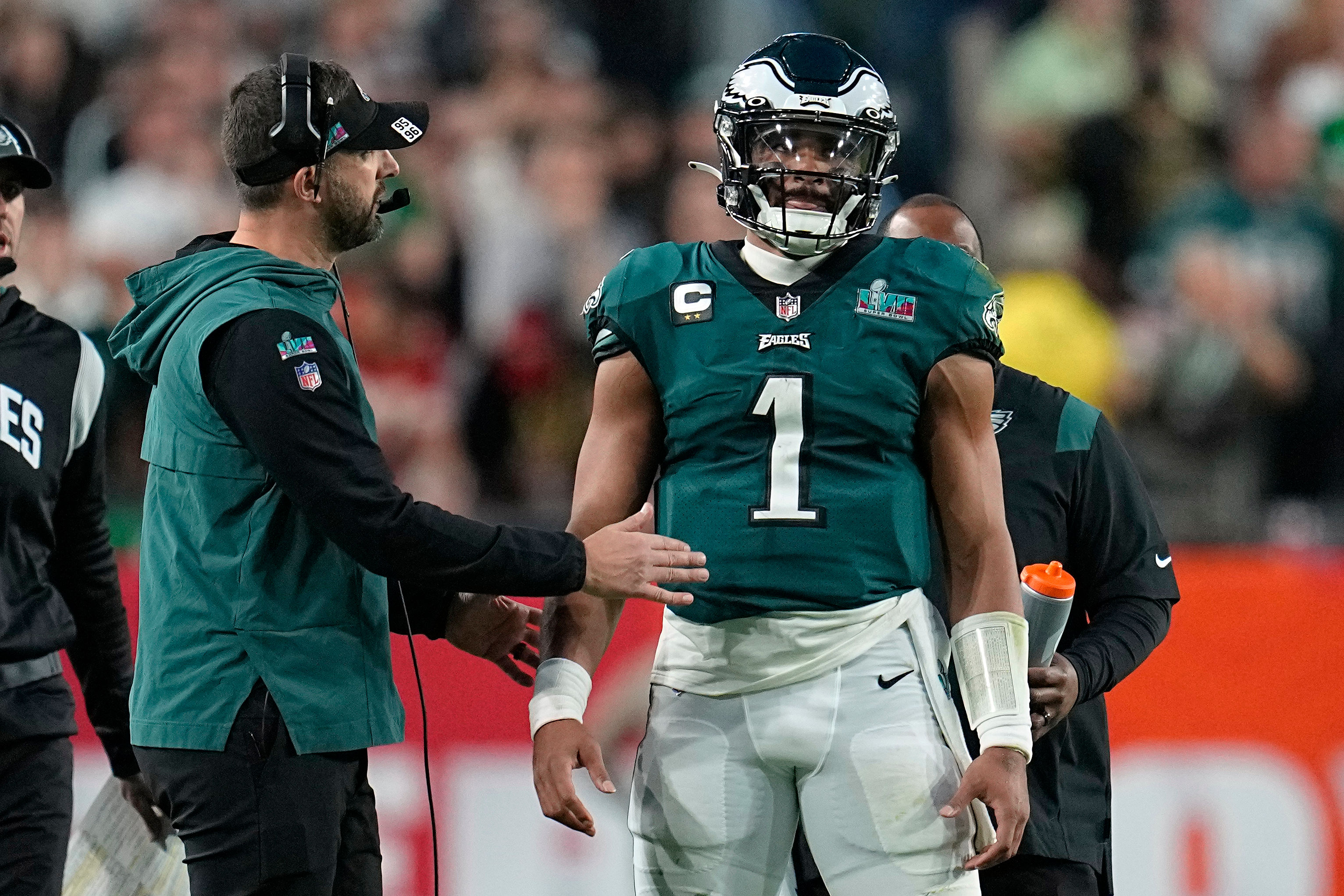 The Philadelphia Eagles' makeover is already underway. Only two days after a crushing Super Bowl loss to Kansas City, some Eagles are ready to move on - especially the coaching staff.
Offensive coordinator Shane Steichen was named head coach of the Indianapolis Colts and defensive coordinator Jonathan Gannon became the man in charge of the Arizona Cardinals on the same day the team - which has 19 free agents - gathered together to clean out its lockers.
Jalen Hurts isn't going anywhere. But the franchise quarterback who threw for 304 yards and a touchdown and ran for 70 yards and three scores against the Chiefs can start talking about a new contract. Just not yet.
"I kind of dread this," wide receiver A.J. Brown said Tuesday. "It's tough, it's tough right now."
The first order of business for general manager Howie Roseman and coach Nick Sirianni will be replacing Steichen and Gannon. The obvious move could elevate quarterback coach Brian Johnson to offensive coordinator with Sirianni perhaps taking the play-calling duties back after he handed to Steichen midway through the 2021 season. On defense, Dennard Wilson has been highly touted as a potential replacement-in-waiting.
The main question that the Eagles had coming into the season was solidified by Hurts' emergence as an MVP finalist and bona fide star quarterback. His contract expires at the end of the 2023 season and the organization has signaled its ready to talk about a long-term deal.
Hurts, however, wasn't ready to talk about it Tuesday: "The thing that I'm most focused on is winning and ultimately winning a championship. There will be a day where that conversation can be had, but today isn't that day."
The eventual contract extension could have a trickle-down effect for other free agents in Philadelphia. At the top of the list is cornerback James Bradberry, who signed a one-year contract worth $7.5 million after being released by the Giants last offseason. Bradberry's expected value on the open market may be too much for an Eagles team already carrying Darius Slay's $26 million cap hit for 2023.
"I don't know what they are got planning on over there and I didn't want to ask about it because I just wanted my mind to be on football," Bradberry said Tuesday when asked if he talked to Roseman about a new deal. "But we'll talk about it soon."
The same could hold true for C.J. Gardner-Johnson, who was acquired during training camp in a trade with the Saints and solidified the middle of the Eagles defense in the postseason.
Two franchise defensive stalwarts from Philadelphia's Super Bowl team in 2017 are also on the list in Fletcher Cox, who had a $14 million price tag this season on a one-year deal, and Brandon Graham, who recorded his first double-digit sacks season in 2022.
The offensive side of the ball has its share of questions, as well, starting with Jason Kelce, the 35-year-old All-Pro center who has considered retirement the last two years and who said that he would give an answer before March about a possible return.
His colleague, right tackle Lane Johnson, was scheduled to have surgery this week to repair an abdominal injury that he played through during the postseason. Running back Miles Sanders is scheduled to become a free agent after rushing for over 1,200 yards this year - but the Eagles do not have a history of overpaying for running backs since Jeffrey Lurie bought the franchise in 1994.
Philadelphia does have other avenues to fill holes on the offensive and defensive lines, as well as the secondary. The Eagles have the No. 10 pick in the first round of April's draft, acquired in a deal swap last year with New Orleans, and the 30th spot.