Trump indictment throws 2024 race into uncharted territory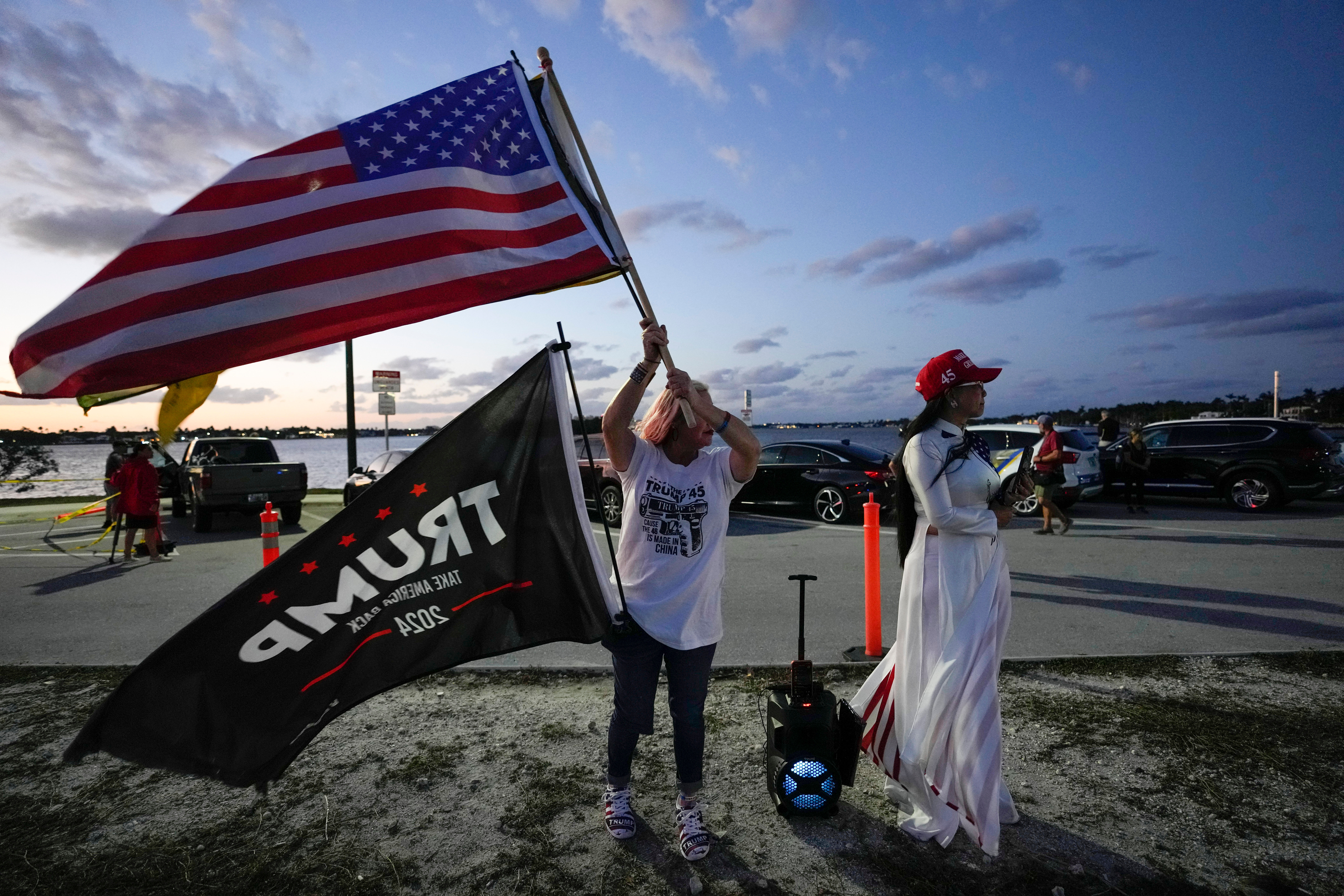 The
historic indictment of former President Donald Trump
thrust the 2024 presidential election into uncharted territory, raising the remarkable prospect that the leading contender for the Republican nomination will seek the White House while also facing trial for criminal charges in New York.
In an acknowledgment of the sway the former president holds with the voters who will decide the GOP contest next year, those eyeing a primary challenge to Trump were quick to criticize the indictment. Without naming Trump, Florida Gov. Ron DeSantis called the move "un-American." Former Vice President Mike Pence, whose life was threatened after Trump incited an insurrection at the U.S. Capitol, told CNN the charges were "outrageous."
That posture speaks to the short-term incentives for Republicans to avoid anything that might antagonize Trump's loyal base. But the indictment raises profound questions for the GOP's future, particularly as Trump faces the possibility of additional charges soon in Atlanta and Washington. While that might galvanize his supporters, the turmoil could threaten the GOP's standing in the very swing-state suburbs that have abandoned the party in three successive elections, eroding its grip on the White House, Congress and key governorships.
Trump has spent four decades managing to skirt this type of legal jeopardy and expressed confidence again late Thursday, blaming the charges on "Thugs and Radical Left Monsters."
"THIS IS AN ATTACK ON OUR COUNTRY THE LIKES OF WHICH HAS NEVER BEEN SEEN BEFORE," Trump wrote on his social media site.
Trump is "ready to fight," his attorney, Joe Tacopina, said on Fox News,
Trump is expected to surrender to authorities next week on charges connected to hush money payments made during the 2016 presidential campaign to women who alleged extramarital sexual encounters. For now, it remains unclear how the development will resonate with voters. Polls show Trump remains the undisputed frontrunner for the Republican nomination, and his standing has not faltered, even amid widespread reporting on the expected charges.
Trump's campaign and his allies have long hoped an indictment would serve as a rallying cry for his supporters, angering his "Make America Great Again" base, drawing small dollar donations and forcing Trump's potential rivals into the awkward position of having to defend him - or risk their wrath.
Indeed, Trump's campaign began fundraising off the news almost immediately after it broke, firing an email to supporters with the all-caps subject line "BREAKING: PRESIDENT TRUMP INDICTED."
At Trump's first rally of the 2024 campaign, held in Texas over the weekend, supporters expressed widespread disgust with the investigation and insisted the case wouldn't affect his chances.
"It's a joke," said Patti Murphy, 63, of Fort Worth. "It's just another way of them trying to get him out of their way."
Others in the crowd said their support for Trump had been waning since he left the White House, but the looming indictment made them more likely to support him in 2024 because they felt his anger had been justified.
At the same time, there is little chance a criminal trial will help Trump in a general election, particularly with independents, who have grown tired of his constant chaos. That has provided an opening for alternatives like DeSantis, who are expected to paint themselves as champions of the former president's policies, but without all his baggage.
But there were no immediate signs the party was ready to use the indictment to move past him. Instead, Republicans, including members of Congress and Trump's rivals, rushed to his defense en masse. In addition to DeSantis, former South Carolina Gov. Nikki Haley, who has already declared her candidacy, blasted the indictment as "more about revenge than it is about justice." Former Secretary of State Mike Pompeo, who is mulling a run, accused Manhattan District Attorney Alvin Bragg of "undermining America's confidence in our legal system," while also sending a fundraising text off the news.
Trump, meanwhile, has tried to turn the public against the case. Early on March 18, amid reports that police in New York were preparing for a possible indictment, he fired off a message on his social media site in which he declared that he expected to be arrested within days.
While that never came to pass (and his aides made clear it had not been based on any inside information), Trump used the time to highlight the case's widely-discussed weaknesses and to attack Bragg with a barrage of deeply personal - and at times racist - attacks.
Trump also sought to project an air of strength. The night of his post, he traveled with aides to a college wrestling championship, where he spent hours greeting supporters and posing for photos. On the way home, the assembled entourage watched mixed martial arts cage fighting aboard his plane.
And last weekend, Trump held a rally in Waco, Texas, where he railed against the case in front of thousands of supporters.
People who have spoken with Trump in recent weeks have described him as both angry and unbothered about the prospect of charges. Freshman Republican Rep. Mark Alford of Missouri said Trump was "upbeat" at a fundraiser at Mar-a-Lago the night before he warned of his arrest.
Indeed, Trump has at times appeared in denial about the gravity of the situation. He and his aides were caught off-guard by the news Thursday. And during the plane ride home from his Texas rally, Trump told reporters he believed the case had been dropped.
"I have no idea what's going to happen, but I can tell you that they have no case. So I think the case is - I think they've already dropped the case, from what I understand. I think it's been dropped," he said.
Still, Trump responded with anger when pressed, even as he insisted he was not frustrated.
Beyond the Manhattan case, Trump is facing several other investigations, including a Georgia inquiry into his efforts to overturn the results of the 2020 election and a federal probe into his alleged mishandling of classified documents.
It remains unclear how the public might respond if Trump ends up facing charges in additional cases, particularly if some lead to convictions and others are dismissed.
An indictment -- or even a conviction - would not bar Trump from running for president or serving as the Republican nominee.
___ Associated Press writers Paul Weber in Waco, Texas, and Lisa Mascaro in Orlando contributed to this report.